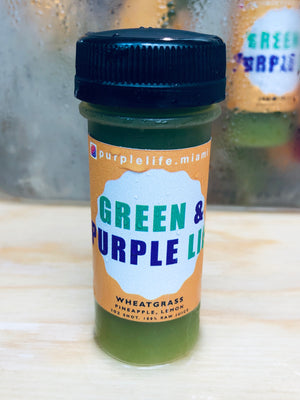 (12-Pack) Wheatgrass shots
(ONLY in SOUTH FLORIDA, i.e., Miami-Dade, Broward, and Palm Beach counties)
12 Units.
Shelf Life: 7 Days.
Wheatgrass has a very high chlorophyll content. Chlorophyll is the green pigment responsible for wheatgrass' vivid green color. Wheatgrass acts as a natural liver cleanser and detoxifier, it is a powerful antioxidant to reduce free radical damage, a blood strengthener and can help in boosting energy.
Well known to promote an oxygenated environment within the body.
Check out https://www.healthline.com/nutrition/wheatgrass-benefits for a complete list of wheatgrass benefits.