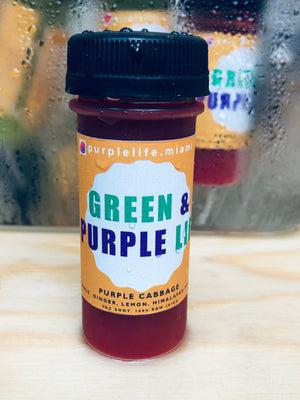 (12-Pack) Purple Cabbage shots
(ONLY in SOUTH FLORIDA, i.e., Miami-Dade, Broward, and Palm Beach counties)
12 Units.
Shelf Life: 10 Days.
Purple Cabbage boosts the immune system, fights inflammation, improves digestion, and combats chronic disease. The purple color in purple cabbage comes from the anthocyanin it contains and it's the winner in overall antioxidants load.
Well known to promote a healthy gut.
Check out https://www.healthline.com/nutrition/purple-cabbage for a complete list of purple cabbage benefits.